Korg Gadget 2
start | synth | drum | keyboard | audio track | midi out
43 Gadgets with descriptions
I find the choice of naming the Gadgets to world wide cities very confusing, so I gathered descriptions, programming tips and the original machines some of the Gadgets are based on from around the net. The Gadgets are alphabetically listed in their original Korg categories.
Yellow coloured Gadgets are able to import samples.
| | | | | |
| --- | --- | --- | --- | --- |
| Synth | Drum | Keyboard | Audio track | MIDI Out |
| Berlin | Abu Dhabi | Fairbanks | Durban | Taipei |
| Brussels | Amsterdam | Madrid | Rosario | |
| Chiang Mai | Bilbao | Marseille | Zurich | |
| Chicago | Gladstone | Module Alexandria | | |
| Darwin | London | Module Firenze | | |
| Dublin | Otorii | Module Glasgow | | |
| Ebina | Recife | Module Montreal | | |
| Helsinki | Tokyo | Module Salzburg | | |
| Kamata | | | | |
| Kiev | | | | |
| Kingston | | | | |
| Lexington | | | | |
| Lisbon | | | | |
| Memphis | | | | |
| Miami | | | | |
| Milpitas | | | | |
| Montpellier | | | | |
| Phoenix | | | | |
| Pompei | | | | |
| Stockholm | | | | |
| Vancouver | | | | |
| Warszawa | | | | |
| Wolfsburg | | | | |
Sources (thank you so much):
Korg Gadget in-app info
musicradar
musictech
warpacademy
reddit
soundonsound
Combine Gadget with the wireless Nanokey Studio and you have a very portable, instant on studio very much like OP-1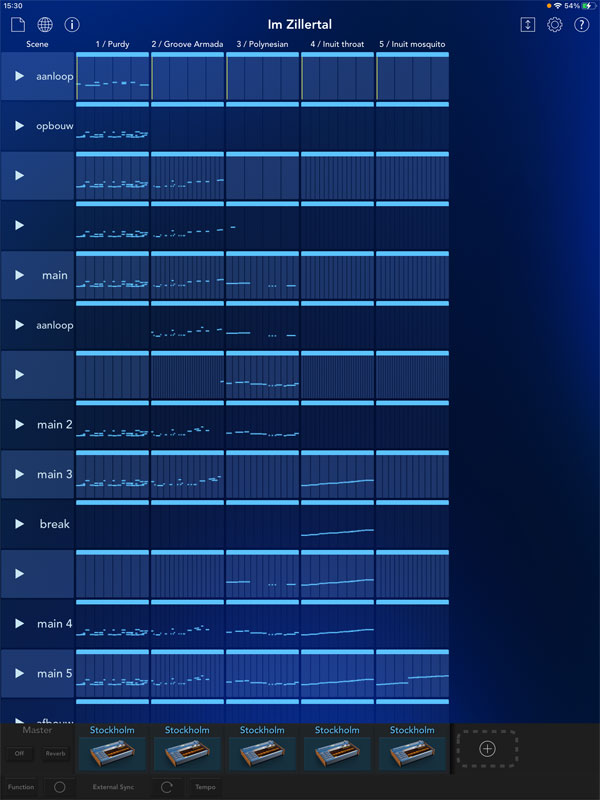 copyright: tinyloops.com - contact