AVP Synth MAD5 - MIDI
start | panel | midi | spring reverb
Setting the MIDI-channel
- hold the MODE button while switching the POWER on (Indicator SET should start to blink)
- send a midi message from a channel that you have assigned (for example choose channel 2 on your device and press any key on your keyboard).
- Channel is set, SET indicator will stop blinking. It will be saved in the memory of MAD-5.
MIDI Keyboard keys
The keys are one octave higher than the standard Roland Drum Notes.
C2
D2
E2
F2
G2
A2
B2
48
49
50
51
52
53
54
55
56
57
58
59
Bass
Drum
Snare
Drum
Clap
(Snare
Drum)
OH
(OH)
CH
(CH)
Settings for StepPolyArp
| | | |
| --- | --- | --- |
| | +0 | |
| | +0 | |
| | +0 | |
| | +0 | |
| | +0 | |
| | +0 | |
| 53 | F2 | Open Hihat |
| 57 | A2 | Closed Hihat |
| 51 | D#2 | Clap |
| 50 | D2 | Snare Drum |
| 48 | C2 | Bass Drum |
Settings for iPad "Fingerlab DM1" app: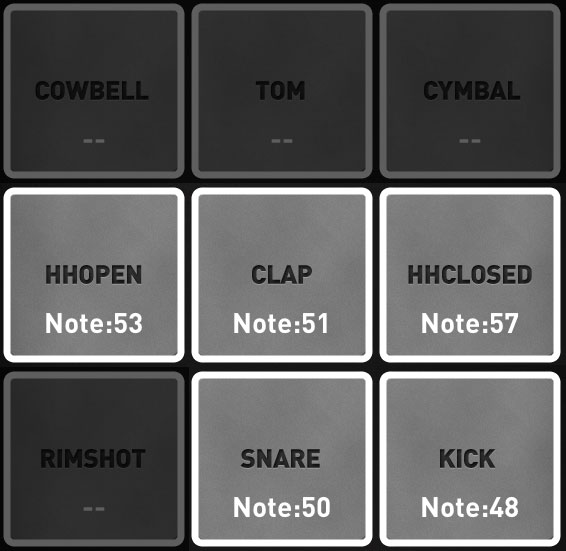 copyright: tinyloops.com - contact