Roland TR-606 Manual
There are 32 Patterns: 16 Patterns distributed in 2 Pattern Groups (I and II).
There are 8 Tracks (=songs), numbered 1 to 8.
The TR-606 cannot be played in realtime, it plays only by programming.
The tempo can be set between 40 and 300 beats per minute (bpm).
Functions of the buttons and the switches
Nearly all the buttons and switches have more than one function.
Depending on its function, the same button can be refered to in a different way.
Button
Can be refered to as
[D.C.]
[BAR RESET]
[PATTERN CLEAR]
[FUNCTION]
[LAST STEP]
[BAR]
[]
[PATTERN GROUP]
[D.S.]
[WRITE/NEXT]
[TAP]
[STEP RESET]
[TRACK]
[INSTRUMENT]
[MODE]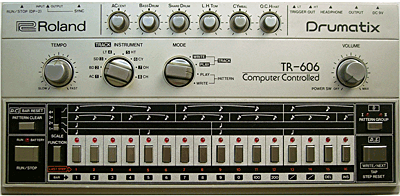 copyright: tinyloops.com - contact